1 Function, applicable scope and performance characteristics:
Horizontal rotary extractor is a kind of continuous oil & fat extraction equipment, which are commonly used in oil & fat industries. At present, it is applied to extract oil from soybean, peanut, cotton seed, rapeseed, castor seed, sunflower seed, etc.
Production process is continuous, plus power consumption is low,so horizontal rotary extractor has characteristics of simple structure, stable running process, reliable working performance, convenient maintenance and good extraction effect. It has been widely used in China.
2 Main specifications and technical parameters:
| | | | | | | |
| --- | --- | --- | --- | --- | --- | --- |
| Type | JPS320 | JPS400 | JPS450 | JPS500 | JPS550 | JPS600 |
| Capacity(t/d) | 30 | 50 | 100 | 150 | 200 | 250 |
| Equipment diameter | ∮3200 | ∮4000 | ∮4500 | ∮5000 | ∮6000 | ∮6500 |
| Cell height | 1800 | 1900 | 2000 | 2000 | 2200 | 2400 |
| Rotor | 16 | 18 | 18 | 18 | 18 | 18 |
| Motive power | 1.5 | 1.5 | 1.5 | 1.5 | 1.5 | 1.5 |
3 Operating principle and main structure:
Horizontal rotary extractor is a kind of hollow inverted conical cylinder, which is divided into 16-18 cells. Rotor cylinder assembly slowly rotates around the vertical shaft with low speed. During operating process, the meals---from pre-treatment workshop, are delivered by 1# filling screw feeder into extractor through feeding hopper. According to countercurrent extraction method, constantly spray miscella and fresh solvent into material layer of rotor cell, so as to extract oil gradually. If the rotation of rotor is CW (clockwise), then, the flow direction of miscella is CCW (counterclockwise), vice versa. When the cells are filled with meals, firstly spray miscella of different concentration on the material layer, and then spray fresh solvent at last. After 6-7 times spraying, miscella concentration will become higher increasingly. And miscella flows out of the oil groove with highest concentration. Each cell likes an extraction tank with open top side and fixed grid plate bottom (penetrate freely). The material layer drain the solvent by itself, and then falls into disc discharger through grid plate discharge hole, and the materials discharged from the disc discharger. In horizontal rotary extractor, when the meals rotates a cycle, the meals can complete four operation processes (loading, spray extraction, drain and discharge), thus forming a continuous production process. All work function parts above are contained in a cylindrical enclosure. It is required that the enclosure of horizontal rotary extractor shall be fully sealed to ensure safety.
Main structure: horizontal rotary extractor includes rotor, main shaft, grid plate bottom, miscella hopper, outer cylinder, reduction gearing device, manhole, sealing device, spraying device, etc.
4 Equipment installation:
Due to the transportation limit, horizontal rotary extractor manufactured by our company is always divided into many parts and delivered to construction site. As transport distance and equipment size are different, the quantity of divided parts is different. In general, there are oil hopper base, grid plate group, top and bottom cylinder plate, U-steel ring, rotor assembly (divided into many parts when it`s oversized), reduction transmission device, manhole, sealing device, etc.
Equipment shall be installed on site in accordance with our technician`s technical guidance and quality supervision. The main steps are as follows:
(1)Equipment foundation shall be done based on foundation design drawing. Embedded parts shall be laid smoothly according to the specified size. Air drying period should not be less than 15 days (≥15 days).
(2)Based on design drawing, confirm the equipment legs` position. After lineation, check whether each leg`s height is uniform, and make gaskets with all kinds of specification to reserve.
(3)According to the drawing, completely manufacture U-steel shelf and miscella hopper on site at first. After hoisting U-steel shelf and miscella hopper, add equipment legs, adjust level and weld firmly, and then finish leveling or pavement of grid plate bottom.
(4)Rotor assembly is generally done on site, first positioning the rotor inner cylinder, find a number of level support points on the grid plate plane, complete tack welding of partition board. After encircled the rotor enclosure, hoist the main shaft and locating, and then assemble the outer cylinder and the upper shell.
(5)When installation, the upper bearing support shall be aligned. After adjusting the main shaft to the center position, weld the connecting shaft to the rotor firmly. If appropriate after checked and adjusted, complete the on-site assembly of horizontal rotary extractor.
(6)Set up installation platform on the position of active force transmission device. Put reduction transmission device on the position of relevant platform, and install gear ring based on the drawing. Check the bounce value of gear ring until it`s appropriate, then install fixed reduction transmission device.
(7)According to the drawing, install manhole, sealing device, feeding hopper, large spraying device, miscella filter, sealing canvas belt, etc.
5 Debugging and commissioning:
(1)After the completion of installation, perform empty running test to check whether equipment running is flexible, meshing condition between transmission gear and gear ring is normal, meshing mark between gear and gear ring is uniform or not. Ensure that transmission is stable and there is no abnormal sound.
(2)Check whether connecting tubes are in accordance with technical requirements. Under normal pressure condition, carry out water filling test on miscella hopper and shell of horizontal rotary extractor. If there is leakage point, please weld reliably in time.
(3)In test run period, check whether the gap between rotor and grid plate bottom is coincident, the seal between canvas belt (or aluminum sheet) and grid plate bottom is reliable or not.
6 Operation and safety regulations:
Inside operating temperature of horizontal rotary extractor is 45℃~55℃; inside pressure is micro negative pressure; moisture of meals is 7*9%; fines content of meals is less than 5% (<5%).
When the horizontal rotary extractor is operating, firstly pump the fresh solvent in circulating solvent pump into the extractor. When all oil grooves are filled with solvent, start the main drive motor to rotate the rotor, start 1# filling screw feeder to start feeding materials, and at the same time start other solvent pump to perform spray and recycle, extraction meals cell rotate slowly. Convey meals to the DTC desolventizer. During extraction process of the horizontal rotary extractor, the operators must frequently pay attention to the flow of solvent and miscella, observe whether or not feeding and discharging is normal, and check whether or not the equipment subjects to leakage. And at the same time, the concentrated miscella can be pumped out. Start vertical meal conveyor before the first extraction cell full of materials rotates to the discharge cell.
In addition to the fresh solvent into the extractor flow shall be controlled according to solvent ratio, it still needs appropriate adjustment according to miscella concentration and residual oil rate in meal. In general, seek to increase the miscella concentration, and reduce the residual oil rate in meal as far as possible. On the premise that the residual oil rate in meal achieves the stipulated target, reduce the fresh solvent amount into the extractor as far as possible, which can further reduce solvent loss. In addition, fresh solvent quality shall also be guaranteed, must not contains impurities or water, otherwise, must be treated before use.
There is no failure of equipment in general. When abnormal phenomenon appears in operation, stop equipment running immediately to find causes and get rid of failure under dissolving state in general. During troubleshooting, taking fire protection and anti-static measures is required. And the tools must be wooden, coppery, aluminous tools. Stop equipment running when equipment shall be overhauled. After 2-3 hours, when equipment temperature decreases to normal temperature, open manhole with special attention to safety protection. Avoid static electricity and prevent solvent gas flowing out. Far away fire source. Pay attention to workshop ventilation and personnel safety protection.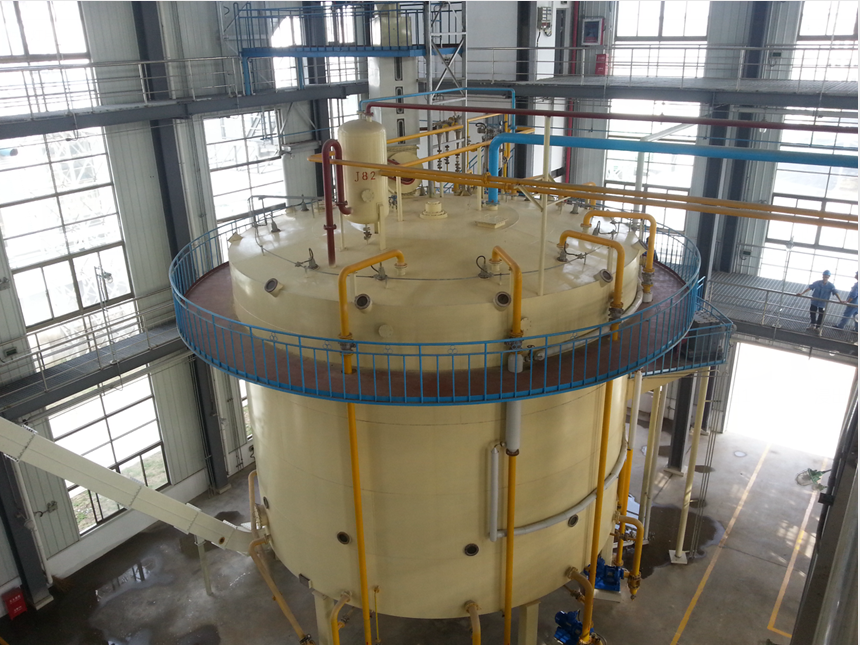 We also provide the following project and equipment:
Oil Extraction Project
Oil Refining Project
Cottonseed Miscella Refining Project
Low Temperature and Edible Soybean Meal Project
Soy Protein Concentrate Project
Soy Protein Isolate Project
Cottonseed Protein Project
Full Fat Soybean Powder Project
ASME Pressure Vessel
ASME Heat Exchanger


Looking for ideal Carbon Steel Rotary Exractor Manufacturer & supplier ? We have a wide selection at great prices to help you get creative. All the Stainless Steel Rotary Extractor are quality guaranteed. We are China Origin Factory of Soybean Oil Rotary Extractor. If you have any question, please feel free to contact us.
Product Categories : Oils And Fats Project > Oil Extraction Project